- Wildmoor Waters -

Location in South West:
Wildmoor Waters, The Willows, Wildmoorway Lane, South Cerney, Gloucestershire, GL7 5UZ, England, UK
Contact:

Tel: Andy on 07711 831 856

Fax: 01285 861150

E-mail:
fishing@wildmoorwaters.co.uk

Website:
www.wildmoorwaters.co.uk
Day Tickets:

Membership: There are limited membership places available, which provide the opportunity to fish all year round. Membership costs £450 and is renewable annually and runs for 12 months from the date of joining. New members will only be added as membership places become vacant, affording you a real investment in the fishery.

Main Lake: Can be booked for multiple night sessions by non members. Cost is £25 per person per night and is based on a minimum of 2 anglers staying for 2 nights
Facilities:
Bookable angling cabin, ample car parking, toilet, shower, disabled friendly, digital photo service.
Best Baits:
pellet, boilies, corn, worm, dog biscuits, bread.
Getting There:
Leave the A419 at the Spine Road Junction and follow the signs for South Cerney. At the first crossroads, turn right into Station Road. Take the first turning right after the 30 mph signs into Robert Franklin Way and turn immediately right into Wildmoorway Lane. Wildmoor Waters can be found at the third entrance on the left.

Wildmoor Waters is a privately run, specimen carp and coarse fishery with carp to over 30lb and provides the perfect venue for quality fishing. South Cerney is set in the heart of the Cotswolds, just five minutes away from Cirencester - the roman capital of the Cotwolds.

Wildmoor Waters Carp Fishery consists of 2 lakes which are stocked with around 300 specimen carp [mirrors, commons and ghosties]. There is plenty of cover around the swims, together with stalking areas, creating a wild but well managed environment in which to enjoy your carp angling.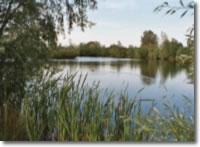 Main Lake:
Is about 4 ½ acres, has many well-spaced swims and is stocked with in excess of 200 specimen carp and offers a selection of big mirrors and commons.
Top Lake:
Is about ¾ acre, boasts some beautiful fish. Ideal for 2 or 3 people to enjoy a couple of days sport and offers perfect stalking conditions in the summer.
Carp can be taken on a number of types of bait including pellet, boilies, corn and natural baits such as worm have also proven to be successful. The water has a prolific bloodworm population and
Cotswold Bait Creations
liquid bloodworm is a great dip for most baits. In warmer weather fish can be readily taken off the surface using floating dog biscuits and even bread.
Be prepared to move to showing fish. The fish tend to respond to a new wind and can be caught readily on the end of the wind. Recently, small PVA bags have been successful with the stick method being a paticular favourite. A boilie "popped up" about 1.5 inches has taken a number of good fish, but also, a zig rig fished 2-3 feet off the bottom can prove successful.

Microbarbed or barbless hooks only

Only "safe" rigs may be used

Nuts and artificials are banned

Baits with a high oil content should only be used sparingly
Pictures courtesy of Andy Stump at Wildmoor Waters

Reader Feedback:
Just returned home from 4 nights at Wildmoor carp fishery. Booked a cabin on the bankside for two couples, two very experienced anglers, fairly experienced carp anglers. Venue looks great, secure, well laid and and kept nice. Lots of ducks, coots, moorhens, gulls and swans - most are a pest but that's life.
F fishing was awful - not one take, bite or run in 4 days/nights. Tried everything: various boilies, bread bottom, mid, water top - nothing. Lots of fish showing, we only saw 1 fish landed in 4 days/nights. People welcome you well and pleasent but really don't want you to know the lake has been like this for weeks. Fish weren't spawning. A regular there reckons there is far to much bait being put in the lake and by what we saw he was right. The fish must be sick of the sight of boilies. Bucket fulls being put in.
Anyway if you fancy it, try it, but we will not be back again. A total waste of time and money. Cabins were very nice so our partners were happy but again fishing was crap. I think they need to act on this but that's their problem.
Mick warwick, June 2011

Reader Feedback:
Bradley Hartrey caught a lovely fully scaled mirror,weighing in at a lovely 26lb, on 04/03/07 at Wildmoor Waters.
March 2007
[Back To venues - Gloucestershire]