- Indio Pond Fishery -






Location in South West:
Newton Road, Bovey Tracey, Devon, TQ13 9DY, England, UK
Contact:

Tel:01626 832508

E-mail:
info@indiopond.co.uk
Day Tickets:

No day tickets.

Fishing available to residents only.

Prices from £185 per week [low season] to £250 per week [high season] for angling guests.
Facilities:
Accomodation in angler's lodges, bait available
Best Baits:
Npt Available
Getting There:
Go south to the end of the M5. Continue along the A38 past Exeter, following the signs for A38 Plymouth. About 8 miles further on take the slip road on your left sign-posted to Bovey Tracey A382 and turn onto the A382. (fourth exit). Go to the next roundabout (about a mile) and take the third exit which is Newton Road. The entrance to Indio Pond is approximately 300 yards on your right.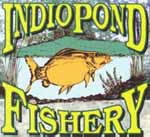 A stay at
Indio Pond
in one of their lovely lakeside angler's lodges, just a few yards from the bankside, is probably as near to a fisherman's paradise as you can imagine or are likely to find anywhere. Set in 9 acres of beautiful Devon countryside, the 2.5 acres of Indio Pond and prolific stockpond is bordered by its lovely wooded surroundings with views of the Dartmoor slopes beyond, affording visitors the feeling of complete privacy yet within walking distance of the vibrant local town of Bovey Tracey.
Indio Pond has a truly magnificent and idyllic setting - it's a wildlife haven and it's exclusively for residents only. You can fish day and night - there is no closed season - it's completely private and it's never over-fished. With a maximum of only twelve anglers fishing at any one time, it is perfect for coarse anglers of all abilities.
The mature coarse fishing ponds are stocked with quality carp and tench. Other species include crucian carp, golden tench, koi, rudd, perch, eels and even the odd trout.

resident anglers only may fish Indio Pond

anglers may fish day and/or night

all anglers must use barbless hooks at all times

free running rigs only. NO BOLT RIGS

no keepnets or sacks allowed

unhooking mats are compulsory

the use of very fine, high-breaking strain hook lengths is not permitted

no nut baits [e.g. tiger nuts or peanuts] allowed as feed or hook bait.

shelf life boilies banned

no more than two rods allowed.
Reader Comments:
Mr Giles - April 2015
Myself and my wife booked a week at Indio ponds some time ago. The site said that pets were welcome so we took our little Jack Russel. Upon arrival we were told that the pet was an extra £25.00, not mentioned on the website. We were then informed that there was a £1 coin electric meter that needed feeding constantly. The so called lodges were nothing more than a 10 x 8 shed with no-where to sit. The furniture was salvaged from the 60s. Our side of the so called fisherman's paradise lake was 6" deep and littered with dog mess. We lasted 2 days and then left but we spoke to a couple of other guests who were planning on leaving also due to the state of the place. Luxury lodges, NO. Fishermans paradise, NO.
AVOID.
[Back To venues - Devon]