PRESTON STOTZ SHOT

Description: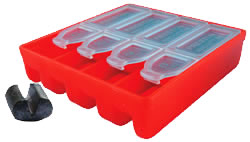 Preston stotz are a hydrid shot designed for use on larger diameter lines (they also work perfectly on fine diameters!). The wide groove makes placing them on the line quick and easy. Another advantage is the increased surface area that grips the line. This prevents damage and also stops them 'pinging' off the line under stress. The flat ends also produce a neat bulk when they are grouped together. They are available in 4 sizes.

Review:
I tried out the Stotz Shot in three sizes....8,9 & 10
I found them much easier to actually pinch onto the line than equivalent sizes in regular shot. They do seem to grip the line better due to the increased surface area in contact with the line and I didn't suffer with shot falling off the line all day.
In addition I wasted far fewer shot than normal as they are much easier to handle having a rectangular rather than spherical shape. When bulked down the line, they seemed to give a much neater and aerodynamic presentation which aided casting.

Score:













Where to buy:
Stotz Shot are available from a wide range of fishing tackle outlets although Fish South West recommends you buy yours from Eccleston Angling Centre. Many thanks to Bun and all at Eccleston Angling Centre for supplying the Stotz Shot for review.