REEL DEALS EXCLUSIVE RANGE OF CARP FISHING ITEMS
Bad Weather? Bring out the bivvy!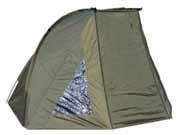 Reel Deals latest addition to their exclusive range is the one-man bivvy. It's compact, ultra light and a piece of cake to erect. Waterproof 190T material, one of the best is used all over. Its perfect for short 12-24 hr sessions & anyone thinking of buying a oval brolly for £50-£70 should reconsider. The bivvy is much better grounded and provides 100% shelter from wind and rain.



At £29.99 its going be a big seller for Christmas.

Reel Deals already have four other exclusive items available and more are on the way.




They aim to provide the best prices in carp fishing equipment but more importantly the best value for money at the lower end. Up to 90% of sales are done on the website www.reeldeals.co.uk. That and careful worldwide sourcing allows high quality goods at such low prices.


Other items in the range are the cutting-edge DVT digital alarm (£15.99), the DTX alarm (£7.99), the Carpster carp rod (£29.99) and the Reel Deals unhooking mat (£16.99). Phone orders are taken on 01962 868717 and the website is shopping-enabled with prices and full specification.



Please mention when placing an order or making further enquiries that you saw this advert at:
FISH SOUTH WEST