- Exeter and District Angling Association -
Contact:

Postal Address: E&DAA, PO Box 194, Exeter, EX2 7WG

E-mail;
info@exeteranglingassociation.co.uk

Website:
www.exeteranglingassociation.co.uk
Membership:
Prices for the 2011 season are:

Senior Member £38.00 per annum [1st January – 31st December]

Junior Member £5.00 per annum

Day Permit £5.00 [All permits available from agencies listed on wesbite]

2011 Night Permit (annual members only) £5.00 per annum
In 1970, two long established Exeter angling clubs; the "Exonia Angling Association" and "City of Exeter Angling Association" amalgamated and became one; the new
"Exeter & District Angling Association"
was borne (E&DAA). The obvious result of this amalgamation saw not only a large membership under the one name but also additional waters for local anglers to fish.

The Association
membership
comprises of pleasure, match and specimen anglers, and as such, their waters reflect all styles of coarse angling, whether it be small seclude ponds, or one of our prolific rivers such as the Exe, all however, offer excellent, affordable fishing.
The E&DAA now controls over
26 miles of fishing
in and around the Exeter area, covering canal, ponds and rivers. The Associations aim is to provide low-cost, varied fishing for local anglers, this is confirmed by the Associations relatively low adult membership fee's [see below]. Association membership currently stands at over 1,500 full, junior and temporary anglers.
In addition to the club's many coarse fisheries, unusually for an angling club, the Association also owns the
game and coarse fishing rights
on part of the River Exe (Weirfield fishery) and as such offers Salmon and trout fishing to its members at no extra cost!
For the
specimen pike and carp
angler, perhaps the best venue being the Exeter Ship Canal, with pike in excess of 30lb and carp to 40lb plus, whilst not an easy water, the rewards can be great for the dedicated specialist angler (see carp/pike anglers page). As a point of historical Interest, the 6-mile long canal was constructed in 1563 and the first ship canal to be built in Britain.
The
match fishing
side of the Association is a buoyant one, with regular open matches held year-round. In addition, the Association, has an active inter-association section with matches being held on our, and neighbouring clubs waters in Devon and Somerset.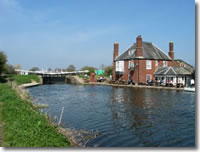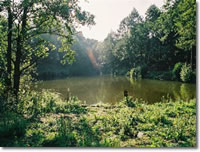 Thanks to Terry at Exeter and District Angling Association for allowing Fish South West to use these pictures of their club waters





[Back To Clubs - Devon]