THE END OF YOUR FAVOURITE BAITS?
By Paul Orford
Experts have warned that stocks of the most popular bait additives are on the verge of collapse.
The increased use of fishmeal-based baits such as boilies, pellets and groundbaits has put great strain on the global stocks of the tiny fish used to make the additive that these baits contain. In addition, species like blue whiting, capelin and horse mackerel are increasingly used to make feed for the aquaculture industry farming fish such as salmon and carp which is adding to their scarcity.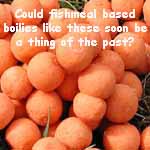 Some commercial fisheries are considering banning fishmeal baits in an attmept to stop the exploitation of the ocean's smaller fish species. This threat posed to sea fish in the search for fishmeal baits is best illustrated by the plight of the blue whiting. A member of the cod family found in the North Atlantic, blue whiting were set a catch quota of 650,000 tonnes. In 2003 fishermen caught 2.3m tonnes, exceeding the quota by four times.
Concerns are that we will eventually run out of fishmeal. The problem is that these baits have been increasing in popularity for years ever since specimen carp anglers first recognised fishmeal based baits potential for targeting big fish in the early 90s. Now virtually every mainstream bait company uses its products. Anglers and suppliers just don't want non-fishmeal baits.
However in an attempt to protect our planet's fish stocks it is time to switch from fishmeal based to vegetable based feed. One company, leading the way in this feild are Willis Worms who import fully organic, vegetable feed into the UK. Give them [and others] who care about the plight of fish stocks your support. Contact Denzel Thorpe at Willis Worms on 07787 611129 for details.
Some facts about fishmeal:

It takes 3kg of wild fish to grow 1kg of farmed salmon

Aquaculture represents the fastest growing demand for fishmeal - it now consumes 33% of global fishmeal production

Angling useage of fishmeal could account for as much as 20% of global production

Large amounts of fishmeal are used as animal feed

In 2002, 2.3m tonnes of fishmeal and 717,000 gallons of fish oil were used by aquaculture

By 2010, this will rise to 3.5m tonnes of fishmeal and 1.2m gallons of fish oil

Feeding excessive amounts of fishmeal can raise amonia and hydrogen to dangerous levels [carp can suffer from hydrogen poisoning and oil poisoning].