BUY YOUR 2005/06 ROD LICENCE ON LINE
By Paul Orford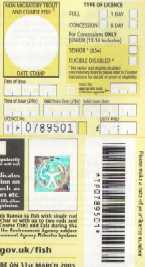 2005/2006 rod licences are available on-line - see prices below.
Anyone over the age of 12 fishing in freshwaters in England or Wales must have a valid Environment Agency rod licence. Money from the sale of licences helps to fund the EA's work on managing fisheries.


If you are caught fishing without one, you are cheating other anglers and could be fined up to £2,500.
To buy your Environment Agency rod licence on-line, click
here
. The following licence categories can be purchased online:

full licences

junior licences [12 to 16 year olds]

8-day licences

1-day licences

Concessionary licences for eligible disabled people

Concessionary licences for people aged 65 or over

Welsh/English bilingual licences
New prices for 2005/06 online rod licences:
Non-Migratory Trout and Coarse

Full Season £23.75

Junior £5.25

8 Day £8.50

1 Day £3.25
Salmon and Sea Trout

Full Season £63.75

Junior £32.00

8 Day £20.25

1 Day £6.75